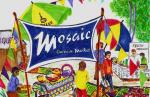 Weekly Saturday Market open from 8am to 2pm. Come and enjoy over 90 stalls, from delicious foods to beautiful and artisanal arts and crafts, largely by local talents. We are licensed and have fabulous live music. Come for breakfast, stay for lunch!
With over 90 exciting stalls with delicious food, great coffee, shopping galore, live music and we are licensed, it's the place to be on a Saturday!
Venue: Mosaic Village, Paul Kruger Street, Sedgefield.

Contact details
Tel: 083 442 2213