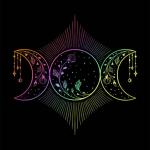 Conscious Crescent events proudly presents, a cosmically crafted night of pure bliss. It will be a night you don't want to miss. Celestial cadence of dancing galore. We welcome you to join us on the psychedelic trance floor. So bring your good vibes & glitter, put on your disguise...
'The Opening' party. By Conscious Crescent events. Join us for a one night psychedelic experience.
Open your heart
Open you eyes'
Open your mind
The tunes will be insane... the tracks unforgettable.
Dj Lineup:
Spacemonkey - 19:00 - 20:15
Rudimental - 20:15 - 21:30
Xenogressive - 21:30 - 22:45
Skellongtone - 22:45 - 00:00
Alegorythm - 00:00 - 1:33

There will be banter and base drops.
A bar that never runs dry.
Pizza so good, you'll look up to the sky.
LOCATION:
Macfee restaurant @ Market Square Shopping Centre.
3 December 2022
Music starts from 19:00 - 01:33
Online tickets available on Howler
https://www.howler.co.za/theopening
Pre sale tickets R120-00
Door tickets R150-00
What to expect:
-Craft stalls
-Face paints & glitter station
-Wood fire pizzas
-Photo booth
-Fully licensed bar
-Alcohol promotions
-Good vibes
-Safe secure parking with security
-Safe & secure shuttles & transportation services.
No under 18's.
No illegal substances or fire arms.
Right of admission reserved.

Contact details
Cell: 082 802 9543