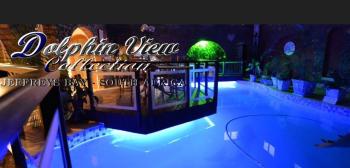 Jeffreys Bay, Eastern Cape, South Africa
Dolphin View Accommodation Jeffreys Bay located 45 min from Port Elizabeth in the Malaria free Eastern Cape of South Africa. The Guesthouse located in the tranquil Noorse Kloof Nature Reserve not far from shops and town offering Bed and Breakfast and Self Catering options. From the Guestrooms you have stunning views over the reserve and the ocean and you can enjoy the prolific bird life from your private balcony.

Dolphin View JBay offers a Indoor Pool and BBQ. Accommodation consists of four Double Rooms and two Family Rooms. Guest Areas include Indoor Pool, Indoor BBQ Area and Outdoor Entertainment Area. Free Wi-Fi Available.

This unique setting gives you a change to be close to nature while still staying central in town. All the main facilities of the town are only 2-4 km away. We offer a 24/7 Cab Service to local Restaurants and Activities.
Tel: 042 296 0594, Mobile: 072 237 7422, Address: 30 Dogwood Rd, Noorsekloof Jeffreys Bay