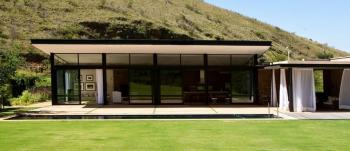 Swellendam, Western Cape, South Africa
Tucked away in the folds of the South African landscape and just far enough away from the city, is a serene, secret paradise. Surrounded by kilometres of panoramic farmlands and astounding natural beauty is a place so breathtaking, even God has a window.

Hidden in a wide valley basin between the agricultural towns of Swellendam and Ashton, sits a shimmering sculpture of glass and concrete flanked by verdant hills and the imposing ever-changing peaks of the Langeberg mountain range. This is Godswindow.
Mobile: +27 82 872 6666, Address: R60, Leeurivier, Swellendam