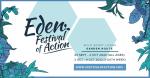 Be a part of this growing, global, green movement. Join our 7-day sustainability experience this October and create a real, long-term environmental impact! Combining practical ecosystem restoration work like tree-planting, with a full line-up of workshops, talks and activities from sustainability experts, the Eden Festival of Action is an environmental action gathering curated to equip you with the tools and knowledge to change your world.

Get active at Eden Festival of Action 2022 supporting our work in the Garden Route area through:
🌳 Reforestation
🌞 Learning with sustainability leaders on permaculture, beekeeping and more
🌲 Alien clearing
🔨 Building with eco-materials
🎨 Creating collaborative environmental art
♺ Setting up waste-management systems
🌍 Important discussions with renowned experts in sustainability
🌱 Celebrating nature with live music and more
The Eden Festival of Action aims to create an empowered regenerative community, equipping participants to become custodians of the natural world, moving from commitment to action.
Get active, not anxious, for the future of our planet!
Apply now: https://bit.ly/ApplyEden22
Or visit www.festivalofaction.com for more information.
At Wild Spirit Backpackers Lodge, The Crags

Contact details
Cell: 083 412 8006