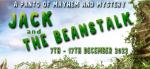 Jack and the Beanstalk is a timeless tale that has enchanted families for decades. This show is a pantomime so there is something in it for everybody.
Take some time out your busy life and come and enjoy some wonderful family time at The Dotsure George Art Theatre this December 7th to the 17th.
We have specials on Tickets sales for a Wednesday and Thursday evenings R80... Save up to R40! Discounts for groups of >10 and for members.
JOIN US for an evening of fun, extravagance and laughter!
At the George Arts Theatre, 125 York St, George

Contact details
Tel: 044 874 3142