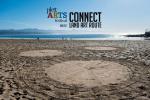 This year our land art route sees more artists participating as well as some interesting new additions. Join us as we grow this annual event together. As usual, this event runs alongside PAF 2022
Plettenberg Bay as a canvas truly does speak for itself.
With a vested interest in the Arts, we have hosted events in performance art, film, music, land art and more over the years. The Arts are a major part of the Plettenberg Bay strategy.
This event is growing from strength to strength with the intention of extending invitations to more guest artists and attracting more participants from around the world. Last year was small but beautiful and was very well received.

This year we will be picking up from last years Land Art section of the Plett Arts Festival. This event will run alongside PAF – 30 Sept to 9 October 2022. Land Art will run alongside our other activities and will be available to view during the process of being created on site, and when the works are complete. These art works will then make up the PAF 2022 Land Art Route and will be available for tours and viewing.

Contact details
Tel: 044 533 0965