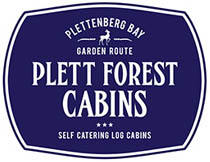 Plettenberg Bay, Western Cape, South Africa
Plett Forest Cabins consists of 6 rustic self catering cabins in the Harkerville Forest. Sleeps between 2 and 8 persons. 12kms from Plettenberg Bay and the beaches.

Plett Forest Cabins offers visitors comfortable and affordable accommodation with a host of activities on the property and in the nearby surroundings.

Away from the hustle and bustle of town this tranquil forest retreat is perfect for the Honeymooner, the Romantic Couple, the Family needing a break, or the perfect destination for a group breakaway or Family Reunion.
Tel: 044 532 7539, Mobile: 082 770 0873, Address: Airport Road, Plettenberg Bay