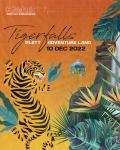 Get ready to slide into this summer adventure. Experience a wonderland of pleasure & discover your inner treasure. Get ready to explore this Jungle adventure. From the very best day time vibes with rides and slides into the deep rhythm of the night. The cat is out of the bag. Tiger Falls 2022 is here!
Release your inner tiger in the aquatic jungle of Plett Adventure Land. A paradise of H2O nestled between Plettenberg & Knysna, the 24-hectare paradise is the perfect setting to get wet and wild or mew and mild.
From a 12-m free fall slide to a lazy 25-m tube ride; there'll be something available to wet your appetite for adventure. The soundtrack for adventure will be an electronic dance music wonderland keeping your journey in step with some of South Africa's finest producers and DJs.
The daytime vibe will be accompanied by the best down-tempo house vibes with a sprinkle of soul, funk and retro. The nights will be orchestrated with upbeat progressive house, tech house and techno. A jungle buffet of groove, deep, vocal, tribal, and minimal for a mind-blowing, carefully curated musical experience.

When fierce and mighty creatures roamed our jungles and plains, it is said that one was the most auspicious of all and could be found on top of the most magical waterfall in all of the land. Many ventured to explore this legend, but only the chosen ones uncovered the secret within. Such is the legend of Tiger Falls. Line-up – Butters, DanTempo, Ian Skene, Snake, PJ & Bruno Morphet Get your tickets now!!
"Sneaky Tiger" Early bird tickets for R150 are available until 1 October 2022.
"Tiger Falls Adventure" Pre-sale tickets for R250 are available until 15 November 2022.
"Better Late Than Never Adventure tickets for R300 are available until 10 December 2022.
Gratitude for this beautiful life. Gratitude for each moment. Gratitude for the magic. Gratitude for the music. Gratitude for you. What a +Geluk.
DATE: 10 December 2022
TIME: TBC
TICKETS: R250.00 – BOOK ONLINE
Over 18s only!

Contact details
Tel: 044 532 7869
Cell: 083 395 5050