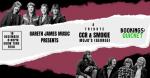 Having enjoyed sold-out performances of his tribute to Smokie in 2019, Gareth is back, by popular demand, touring throughout S.A. with his band, paying tribute to legendary 70s Rock 'n Roll bands, Smokie and Creedence Clearwater Revival in a show entitled, "Alice and the Bad Moon".
Gareth and his band have just returned from a very successful Garden Route tour with sold-out performances at Reed Valley, Mossel Bay at Blend Restaurant, Knysna & St Francis Brewery in Cape St. Francis. The show features hits such as "Oh Carol", "Bad Moon Rising", "Don't Play Your Rock 'n Roll to Me", "Have You Ever Seen the Rain? and "Living Next Door to Alice", to mention but a few.

What inspired Gareth to perform a tribute to Smokie is their success as Europe's top live band, 43 years after the band's inception, with over 13 Top 20 hits in the 70s, having performed to more than 20 million fans, having sold over 20 million records worldwide with "Living Nextdoor to Alice" having sold over 10 million copies.
To be Rock 'n Roll survivors is an achievement, but to still be enthusiastic, fresh, totally committed and in love with music is a positive miracle! Smokie's hit single, "If You Think You Know How to Love Me" peaked at No.3 and went on to sell millions of copies around the world. The band toured the globe, collecting Silver, Gold and Platinum discs almost everywhere they ventured with songs such as "Don't Play Your Rock 'n Roll to Me", "Living Next Door to Alice" and "Oh Carol".
For info regarding table seating (once tickets are booked): Restaurant number - 0725622937 or email: Liezl - mujo@mujofood.co.za

Contact details
Cell: 072 562 2937