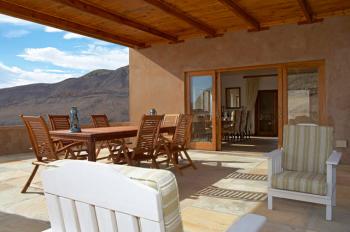 Prince Albert, Central Karoo, South Africa
Weltevrede invites you to embark on a journey to a place in the wonderful Western Cape Province of South Africa; just off the Garden Route. A place in the Great Karoo, just 25km from the peaceful village of Prince Albert.

Here lies self-catering guesthouses, in a valley at the foothills of the mighty Swartberg Mountains: where gigantic blue gums tell the stories of forgotten treasures, forgotten times. A place where the Bushmen left their history on the walls, where Willows hang their weary heads and winds whisper ancient secrets, ancient songs.

Here you will find Time turned back: where figs still come from a tree, where you can still drink your fill from a mountain stream, where stars still show the way and time plainly... stands still...

Here a family has found their home and today, six generations later, still grows fruit, still tills the land and still lives in peace.
We invite you to come and share our secret: Weltevrede

You might want to stay forever...
Tel: 023-5411229, Address: Prince Albert Road, N1 National Prince Albert